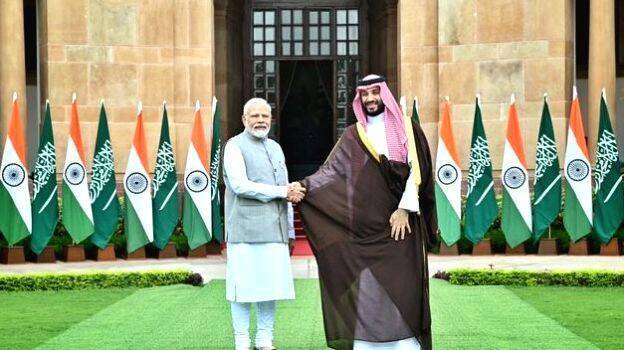 NEW DELHI: Prime Minister Narendra Modi and Saudi Arabia's Crown Prince Mohammed bin Salman Al Saud reached an agreement to improve strategic cooperation in various fields. The first meeting of the Strategic Partnership Council, which was formed during Modi's visit to Saudi Arabia in 2019, was held on Monday at 11 a.m. at Hyderabad House in Delhi. The Political, Security, Social and Cultural Cooperation Committee and the Economic and Investment Cooperation Committee, which are part of the Council, also met today.
India is Saudi Arabia's second-largest trading partner. It has a strong presence in the energy sector as it imports significant amounts of oil.
Foreign Affairs Spokesperson Arindam Bagchi said that bilateral cooperation in areas such as trade, grid connectivity, renewable energy, food security, and manufacturing of semiconductors were discussed.
After the meeting, Prime Minister Modi said that Saudi Arabia is one of India's closest key diplomatic partners. He said that the India-Saudi partnership is crucial for the stability of the region and the well-being of the world. He also said that the two countries are adding a new dimension to their relations with the changing times.