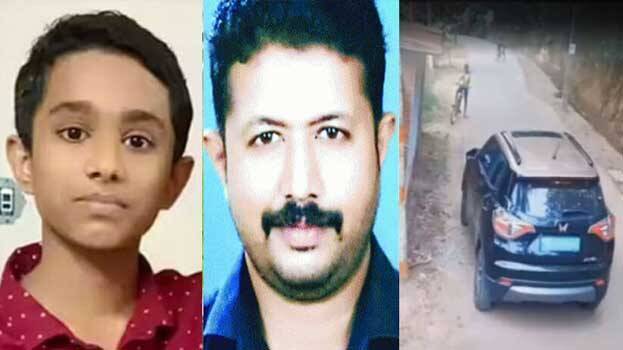 THIRUVANANTHAPURAM: Priyaranjan killed his teacher's son, a 15-year-old boy in Kattakada , by fatally knocking him down with his car on the next day of Thiruvonam. The boy's father was crying in disbelief when shown the CCTV footages as evidence.

A Arun Kumar of Poovachal Pulingode Arunodaya was in tears when he said that his son was killed by Priyaranjan, a student he had previously taught at a tutorial college. The death of Arun Kumar's son Aadhi Shekhar, a class 10 student, was initially thought to be an accidental death after hit by a car in front of the Bhadrakali Devi Temple at Pulingode in Poovachal. However, the murder was confirmed through the CCTV visuals of the temple.

Arun Kumar said that he has no doubt on the death in his first statement to the police after the accident. Arun Kumar had not seen the CCTV footage then. Some of his relatives who first examined the accidental visuals felt suspicious. Then asked Arun Kumar whether he had any issues with Priyaranjan. Arun Kumar did not suspect his student and neighbour Priyaranjan. Moreover, Priyaranjan's two children studied in a government school taught by Arun Kumar. He first asked why has a grudge towards me.
However, Arun Kumar's close relative Latha, who happened to see the CCTV visuals, expressed doubt on Aadhi Shekhar's death. Latha had directly seen Priyaranjan fighting and manhandling Aadhi Shekhar. Latha had seen Priyaranjan fighting and manhandling Aadhi Shekhar when he told Priyaranjan not to urinate in the temple premises. He abused the boy and tried to hit him after holding the bicycle, after seeing all this, Latha told Arun Kumar that it was not an accident.
During the mid-summer vacation, an incident happened leading to the enmity. The animosity was after Aadhi Shekhar asked him whether it was right to urinate in the temple premises.

'Uncle, ...Isn't this a temple, aren't you ashamed to urinate here'. This enraged Priyaranjan. He held the boy's bicycle, hurled abuses and then threatened him.
Latha, saw the child crying in fear. After the incident, the boy did not go to play fearing Priyaranjan. His father Arun Kumar said Priyaranjan nursed a grudge against Aadhi Shekhar's for six months.