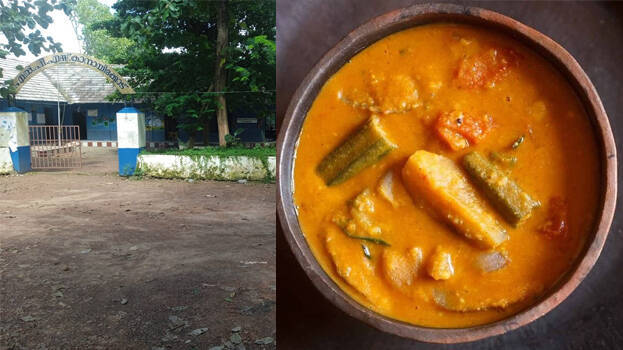 CHOTTANIKKARA: A discussion among friends on social media about the noon meal at Edakkattuvayal Kanayikode Govt. LP school escalated to involve the police. PTA which initially protested by lining up the children, withdrew its complaint when it realized that its own actions were causing controversy.
The issue began with a comment from a resident of the Vellakkattu area suggesting that there were no pieces in the sambar served in the midday meal, and that the earlier provision of porridge and lentils was more nutritious. In response, the PTA made a post calling for the identification of the individual who made the comment, labelling them a 'social traitor' and subsequently organized a protest with the school children gathered in the schoolyard.
The PTA's argument was that three different types of curries were provided for the children's lunch. Subsequently, a complaint was filed at the Mulanthurutthi police station.
When the SHO summoned the individual who made the comment for questioning, they claimed to have realized that the comment was inappropriate and promptly deleted it within 10 minutes. They also asserted that it was the PTA who took a screenshot of the comment and shared it widely across the country, implying that it was part of a political conspiracy aimed at harming their livelihood.
The PTA offered to withdraw the complaint if the commenter apologized but the commenter refused. There was an argument that action should be taken against the PTA office bearers who subjected the school children to hours of rain during the protest and published pictures of the demonstration in the newspaper using the LP school students. Sensing potential trouble, the PTA decided to withdraw the complaint.