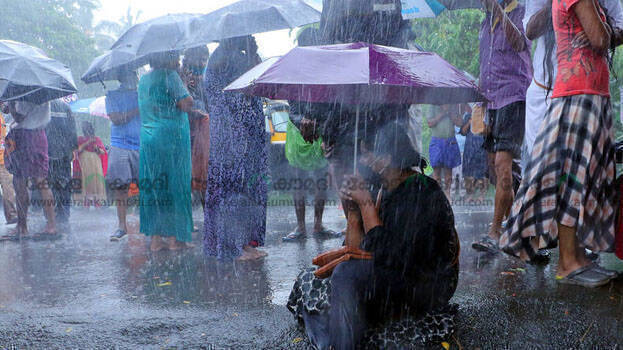 THIRUVANANTHAPURAM: The Central Meteorological Department has issued a warning, stating that there is a possibility of moderate rain accompanied by thunder and lightning at isolated locations in Kerala's Idukki and Ernakulam districts in the next three hours. Additionally, strong wind gusts of up to 40 kmph are expected. Furthermore, the Central Meteorological Department has indicated the likelihood of moderate rainfall at isolated places in Pathanamthitta, Alappuzha and Kottayam districts, with light rain expected at isolated locations in Kollam, Thrissur, Malappuram, Kozhikode, Kannur and Kasaragod districts.
The Meteorological Department also underscores the potential for heavy rain with thunder and lightning at isolated places in Kerala today. Thunderstorms pose significant hazards causing harm to both human and animal life disrupting electrical communication networks and damaging household appliances connected to electrical conductors. Therefore, the public is strongly advised to take precautions as soon as they observe the formation of clouds.
The National Oceanic and Atmospheric Research Centre has also alerted to the possibility of waves reaching heights of 1.8 to 2.0 meters and a storm surge along the Kerala coast until 11.30 pm on today's date, 13-09-2023. Similarly, a wave height of 1.6 to 2.0 meters and rough seas are expected along the South Tamil Nadu coast until 11.30 PM on 13-09-2023. Fishermen and coastal residents are urged to exercise caution. Due to the influence of a cyclonic circulation, the state may experience rainfall for the next four days. The cyclone is currently located over Southwestern Uttar Pradesh with a low-pressure system likely to form over the Bay of Bengal.