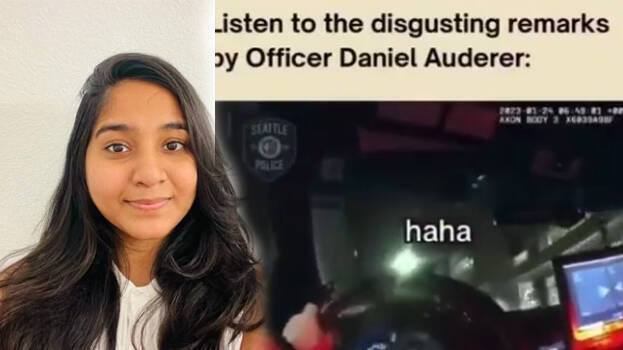 WASHINGTON: An investigation has been launched against the police officer who spoke sarcastically about the Indian student who was killed by a US police patrol car. Janavi Kandula (23), a native of Andhra Pradesh, died after being hit by a car in South Lake Union in January this year. Janavi was a postgraduate student at Northeastern University.
In a recently released video, police officer Daniel Auderer, who was operating the car that struck the woman, makes fun of the case's investigation on the phone with another officer. This led to massive protests. Many people came forward to protest, pointing out that Janavi's death was being mocked. Daniel, who is also vice president of the Seattle Police Officers Guild, had conversations with President Kevin Dave.
Daniel says he hit someone and she died. He laughed saying that she had limited value and that they should write a check for 11,000 dollars. After the video went viral, many protested on social media. Following this, the Police Accountability Officer started an investigation. The accident occurred while Janavi was crossing the road. Earlier there were reports that Daniel was driving at excessive speed.