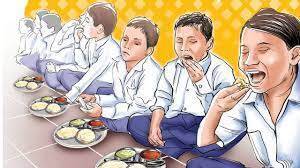 THIRUVANANTHAPURAM: Minister V Sivankutty in a presser informed about the government allotting 50% financial assistance that is Rs 81.43 crore for covering the arrears in the midday meal scheme. The arrears of June and July thus got covered while a portion of money for the month of August has also been paid.
The state share in the project is 163.15 crores. The balance will be disbursed once the state receives Rs 170.59 crore as the first installment of the current year from the central government.
"The project will not be stopped for any reason. It is the responsibility of the headmasters to lead the scheme. Any difficulty should be reported to the Education Department. " Minister said.
A lunch committee meeting will be called soon under the leadership of the local bodies. Committees will be formed to include those who are interested in distributing mid-day meals. The minister also assured about investigating the circumstances that led the Headmaster of Karakulam Vidyadhiraja School to announce the halt of the midday meal scheme and later pass the letter to the media.