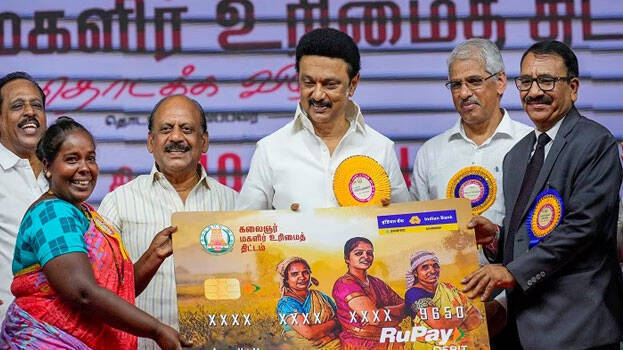 CHENNAI: Tamil Nadu Chief Minister M K Stalin inaugurated the 'Kalaignar Mahalir Urimai Thittam' scheme, which provides Rs 1000 monthly to the housewives. The project was inaugurated in Kanchipuram, the birthplace of former chief minister and DMK founder Annadurai on his birthday.

ATM cards were distributed to the housewives who were the beneficiaries of the scheme at the event. Although the inauguration was today, money was already transferred to many of the beneficiaries through their bank accounts the other day. 1,06,50,000 housewives with an annual income of less than Rs 2.5 lakh will benefit from the scheme.

12,780 crore is needed annually to implement this scheme, a major election promise of the DMK. This is the largest welfare scheme implemented by the Tamil Nadu government. 1.63 crore people have submitted their applications. After detailed examination, the eligible ones were selected from among them.