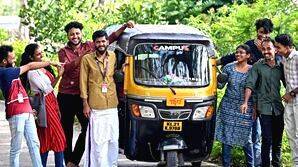 THIRUVANANTHAPURAM: After reaching the Kariyavattam campus, Abdul Kahar, a postgraduate student got out of the auto in front of a crowd. Kahar, a native of Kallara Pangod in Thiruvananthapuram is finding ways to overcome the challenges in his life after his aspiration to pursue a higher degree was thwarted.
His father, Abdul Manaf works as an auto driver and his mother, Ramlath Biwi is searching for a stable job. They supported their son's education up to his undergraduate degree. Kahar graduated from Kozhikode University in 2019 with a Bachelor of Arts degree in Sociology. Realizing that his parents' dreams were not fulfilled, Kahar worked diligently and saved money. He took on various jobs such as masonry, tile work, selling fruits by the roadside and more. He managed to deposit 500 rupees in the bank every day.
In 2021, he had saved up 55,000 rupees and purchased a second-hand auto. With the assistance of a friend, he learned how to drive the auto. In 2022, he secured admission to the Kariyavattam campus for an MA in West Asian Studies. He commuted to college using his auto. When his teachers and classmates learned about his story, they extended their full support. He affectionately named his auto "Campus." However, Kahar's journey is far from over; his ultimate goals are to become a college teacher or enter the civil service.
Kahar has younger brothers, Akbar Shah (who has completed his degree) and Al Amin (who has finished high school). His college classes run from 10 AM to 4 PM. He also provides regular rides for teachers in the morning ensuring that most of the students rely on his auto for transportation. This way, students heading to the hospital or railway station don't have to depend on external auto drivers, and the classes remain largely uninterrupted.
While driving his auto, Kahar listens to classes through earphones ensuring he continues to learn. He resides in the college hostel and after taking a bath and a brief rest in the evening, he resumes driving his Uber auto. He continues to provide rides until midnight. In the meantime, he studies the handouts for each subject dedicating his time to learning.
Kahar's earnings amount to a minimum of 1,300 rupees from 15 rides per day. His hostel fee is 2,500 rupees and the college fees are an additional 2,500 rupees. This income covers his basic needs but additional income remains limited.
'Teachers and friends are my greatest source of encouragement. With a clear goal, you can overcome any crisis,' says Kahar.
Kahar has the highest attendance in the college. A role model for the new generation.
--Ashraf Kadakkal,
HoD, Department of West Asian Studies