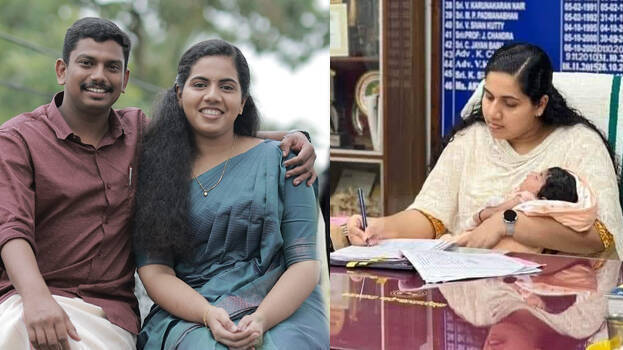 THIRUVANANTHAPURAM: The picture of Arya Rajendran, the mayor of Thiruvananthapuram city, busy doing her work with her baby on the other hand, has gone viral on social media. The picture shows the mayor checking a file while holding her one-month-old baby Dua Dev. According to the netizens, the picture is reminiscent of a European MP who came to the Parliament with her baby.
Mayor Arya Rajendran and MLA Sachin Dev turned parents to a baby girl on August 10 at the SAT Hospital in Thiruvananthapuram. Balussery MLA KM Sachindev and Arya got married on September 4, 2022. The function was held at AKG Hall, Thiruvananthapuram. Chief Minister Pinarayi Vijayan, CPM State Secretary MV Govindan, Minister Mohammad Riyas, Minister V Sivankutty and other leaders attended the function.
Sachin Dev, a native of Nellikode, Kozhikode, won from the Balussery constituency while he was the state secretary of SFI. He is the district committee member of CPM in Kozhikode. Arya Rajendran became the mayor at the age of 21 while studying at All Saints College. Arya is also the youngest mayor of the country.