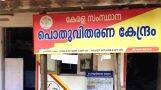 THIRUVANANTHAPURAM: The government plans to connect e-POS machines in ration shops with weighing machines to prevent tampering with measurements and weights. The primary goal is to weigh and record the quantity of each sack delivered from the go down to the ration shop. The food department hopes that this initiative will help eliminate the black market. The project is scheduled to commence on November 1, and central assistance has been requested. The E-POS machines are connected via a 60 kg load-carrying strap, and weighing machines and accessories will be provided free of cost to ration dealers. It is expected that half of the project's cost, approximately 30 crores, will be covered by the central government.
Minister G. R. Anil had discussed this request with Union Food Department Secretary Sanjeev Chopra on the 6th of this month. E-POS machines were initially installed in ration shops in connection with the implementation of the Central Government's Food Safety Act, which is why assistance is sought for this as well.
Addressing the Black Market and Solutions
Some dealers do not remit the full amount, even if it is recorded in the e-POS system. The beneficiaries remain unaware of this discrepancy, and the diverted rice often ends up in the black market. There have been numerous cases of such malpractice.
Solution: Once the e-POS is linked to the weighing machine, the quantity of rice, wheat, sugar, etc., provided to the beneficiaries will be recorded based on weight. Subsequently, this information will be available on the website epos.kerala.gov.in.
Rice is supplied to ration shops from NFSA go downs without a system for weighing in the shops. Exploiting this gap, ration grains are diverted into go downs, and so forth. By using weighing machines connected to the e-POS, the exact amount of grain delivered to the ration shops will be recorded.
A load received at FCI go downs contains 206 sacks of grain, with six bags meant to adjust the total sack weight. These six 50 kg bags will be removed from the go down, leaving 300 kg of rice for transportation. Additionally, when each sack is pierced with a hook and lifted, three to five kilograms of rice tend to spill out. This can result in obtaining 600 kg of rice from 200 sacks, assuming a 3 kg loss per sack. Consequently, 900 kg of rice is diverted from a single load, which is equivalent to 18 sacks of rice.
"A positive decision is expected from the Centre. Many complaints will be resolved."
G R Anil, Food Minister