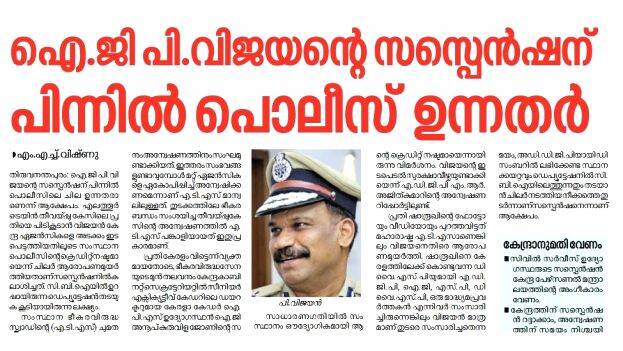 THIRUVANANTHAPURAM: IG P Vijayan, who has been under suspension for five months as a victim of infighting among the police elite, will soon be reinstated. Chief Secretary Dr V Venu has given a recommendation to the Chief Minister regarding this matter. The first recommendation was not implemented due to the opposition of the DGP. This time, the four-member IAS review committee chaired by the Chief Secretary has given a strong recommendation that the competent IG should not be removed from the force without reason.
'Kerala Kaumudi' had reported on May 20 that he was put under suspension by the top brass who did not like the fact that he had paved the way for the arrest of the accused in the Elathur train case. When Vijayan sought the help of central agencies, the higher-ups accused him of causing the state police to lose credit and put him under suspension. He was suspended on May 18 citing negligence in the security of the accused. The action was based on ADGP MR Ajith Kumar's report that Vijayan contacted the officials who had brought the accused from Maharashtra and this led to a security lapse.
Vijayan was the head of the Anti-Terrorism Force back then and he acted on the instructions of DGP Anilkanth. Vijayan sought the help of Kerala cadre IG Anoop Kuruvila John, a senior executive director in the Union Cabinet Secretariat. This was how various agencies including IB, Maharashtra-Karnataka anti-terrorist squads, Uttar Pradesh, Delhi Police and RPF were coordinated. On the third day, the accused was arrested from Ratnagiri in Maharashtra.
Although Maharashtra ATS was the agency that released the photo and video of the accused, the blame was placed on Vijayan. The ADGP, IG, SP, DySP and a media person spoke to the DySP who brought the accused, but only Vijayan was blamed. The suspension was based on the assessment that there was a possibility of an attack by terrorists as the route of travel was disclosed.
The committee pointed out that revoking the suspension would not hinder the departmental investigation. The IG and ADGP have an opportunity in the departmental inquiry to explain and after that departmental action can be taken if necessary. The recommendation of the committee comprising of Chief Secretary and Additional Chief Secretaries Sharada Muralidharan, Bishwanath Sinha and KR Jyotilal is based on his excellence in service.
Politics behind it
Vijayan was invited to attend the 100th edition of the Prime Minister's radio program Mann Ki Baat in Delhi with the Prime Minister.
The invitation was as one of the 100 prominent people of the country. The government did not give permission to participate.
The assessment of BJP connection also led to the suspension. There was also a campaign that he would resign and contest in elections.