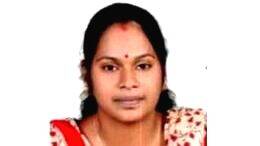 THIRUVANANTHAPURAM: Police have arrested the main accused in the PSC job fraud case. The police have also arrested the woman who conducted the interview. The arrested are Rajalakshmi, the main accused, and Joyce George, a native of Kottayam, who conducted an interview through WhatsApp.
Rajalakshmi surrendered at the Kazhakoottam police station yesterday evening shortly after Joyce was arrested in Kottayam. They will be produced in court today after interrogation. The second accused Rashmi had surrendered earlier.
It was Joyce who looked after Rajalakshmi's child when Rajalakshmi was living in Adoor. The candidates who paid the money were added to a group. Following this, Joisy interviewed them on the pretense of a PSC official.
The police had initially concluded that Rajalakshmi started the fraud six months ago. However, further investigation revealed that she started the fraud one and a half years ago. The complainants have stated that Rajakashmi used to cheat them and take their money from January 1, 2022.