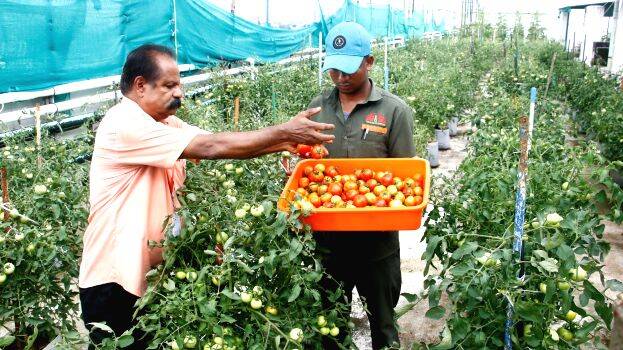 KOCHI: Renai Medicity in Palarivattam, Ernakulam is providing unadulterated food along with medicine to the patients. For this purpose, an organic vegetable garden has been prepared on the 3000-square-foot terrace on the eighth floor. 50 to 100 kg of vegetables are available daily and this is what is used in the hospital canteen. There are 1000 Okra plants and 2000 tomato plants on the terrace. Green chilli, eggplant, legumes, bitter gourd, luffa etc. are grown in abundance here.
Vegetable farming was started 10 years ago to prepare better food in the canteen. Rooftop cultivation is done by cutting large cans in which the medicines come and filling them with soil. Farming is supervised by Senior Housekeeping Supervisor Sundaresan. As soon as Sundaresan reaches the hospital, he will climb to the roof and water the plants. The vegetable garden is taken care of by the management and staff. Shade has been prepared for the plants by spreading nets. Cowdung, bone meal and neem cake are used as manure.
Surplus goes to the employees
The surplus vegetables in the canteen will be given to the employees at a small price. Farming was expanded during the Covid period. Doctors and others come here to take a break from the hustle and bustle of the hospital. Employees also say that they feel happy and refreshed when they walk in the farm for a while. Meanwhile, the hospital authorities are preparing to cultivate more varieties including Cabbage. Vegetable seedlings were purchased from Kakkanad Krishi Bhavan.
Vegetable farming was started in the hospital in 2012. We are leading by example and will continue for years to come."
- Krishnadas Polakkulath,
CEO and Managing Director Renai Medical