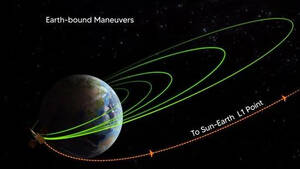 THIRUVANANTHAPURAM: The Aditya L-1 probe launched by India to observe the Sun is currently in the second phase of its journey en route to the Lagrange Point.
The probe's orbit around the Earth was adjusted at 2.30 am yesterday. The propulsion system, known as "Lamengines," was activated for this critical maneuver referred to as "trans-Lagrangian point insertion." With this maneuver, the probe successfully escaped Earth's gravitational field and is now on its way to the Lagrange Point. At this point, located 1.5 million kilometres above Earth, the gravitational forces of both Earth and the Sun are in equilibrium, allowing the probe to remain in a stable orbit without being affected by the gravitational pull of other celestial bodies such as planets or stars. If one were to stand at the Lagrange Point, they would complete an orbit around the Sun in sync with Earth affording them the opportunity to witness solar eclipses. Aditya's solar observations will be conducted while orbiting this point.
The phase leading up to the Lagrange Point is referred to as the "cruise phase" which will span 110 days. During this phase, several of the probe's seven scientific instruments will be operational. Mission control centres in Bangalore, Fiji, Mauritius and the Andaman Islands will oversee the cruise phase. Aditya is expected to reach the Lagrange Point by January.
Aditya was launched on September 2nd. Its orbit around Earth has been adjusted four times, gradually raising it to a quarter of a million kilometres. The course correction performed yesterday involved utilizing the momentum gained while orbiting Earth to transition to the desired trajectory. This marks the first instance of ISRO sending a probe to orbit a theoretical point in space. It signifies India's fifth interplanetary mission.