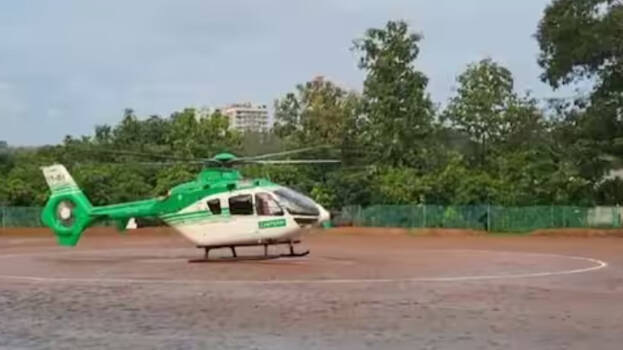 THIRUVANANTHAPURAM: The helicopter rented by the police for Chief Minister Pinarayi Vijayan's travel has reached Thiruvananthapuram. The helicopter of Chipsan was brought to Thiruvananthapuram for a security check. The helicopter was inspected on the ground in the SAP camp.
The move to hire a helicopter for the Chief Minister's travel amidst a severe financial crisis had drawn flak from various corners. The helicopter was hired after prolonged uncertainties regarding the rental agreement. The agreement with Chipsan Aviation is for three years.
The final agreement was signed yesterday. As per the contract, the company has to be paid Rs 80 lakh for 25 hours of flying per month. The agreement is to pay 90,000 rupees for every additional hour.
Moreover, it has been mentioned in the memorandum of understanding that the agreement can be extended for another two years. Earlier, the helicopter was hired by spending crores of rupees.
Although the decision to hire a helicopter was temporarily frozen following widespread criticism, the police later went on to award the contract. It has been decided to park the helicopter at Chipsan's own ground in Chalakudy.