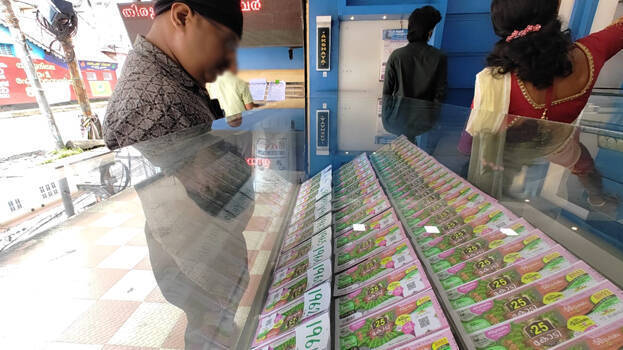 THIRUVANANTHAPURAM: The result of this year's Onam bumper draw, which Kerala has been eagerly waiting for, is out. The first prize of Rs 25 crore was won for the ticket TE 230662. The draw was at 2 pm.
Consolation prize Rs 5,00,000
TA 230662 TB 230662
TC 230662 TD 230662
TG 230662 TH 230662
TJ 230662 TK 230662 TL 230662
Rs 1,00,00,000 each for second prize
TH 305041
TL 894358
TC 708749
TA 781521
TD 166207
TB 398415
TB 127095
TC 320948
TB 515087
TJ 410906
TC 946082
TE 421674
TC 287627
TE 220042
TC 151097
TG 381795
TH 314711
TG 496751
TJ 223848
50,00,000 each for third prize
TA 323519
TB 819441
TC 658646
TD 774483
TE 249362
TG 212431
TH 725449
TJ 163833
TK 581122
TL 449456
TA 444260
TB 616942
TC 331259
TD 704831
TE 499788
TG 837233
TH 176786
TJ 355104
TK 233939
TL 246507
5,00,000 each for fourth prize
TA 372863
TB 748754
TC 589273
TD 672999
TE 709155
85 lakh tickets were printed this time. 75 lakh tickets were sold. Agents were allowed to buy tickets from the lottery office till 10 am today due to high demand. The distribution of tickets was stopped on the eve of the draw last time. 67.5 lakh tickets were sold last year. The ticket price was Rs 500.

This year's sale was a huge hit as people gathered in groups in rural areas and cities to buy tickets. The increase in ticket prices and the last monsoon bumper won by Haritha Karma Sena (HKS) members for the ticket purchased jointly led to widespread joint ticketing. Those who buy tickets in this way will start a joint account if they win the lottery. Payment will be made to this account. Otherwise, distribution of the prize money can be entrusted to the lottery department. Should inform the lottery department in writing how to divide the money and then the money will be deposited into everyone's account accordingly. Thiruvonam bumper of 12 crores in 2019 is also for the ticket purchased jointly.