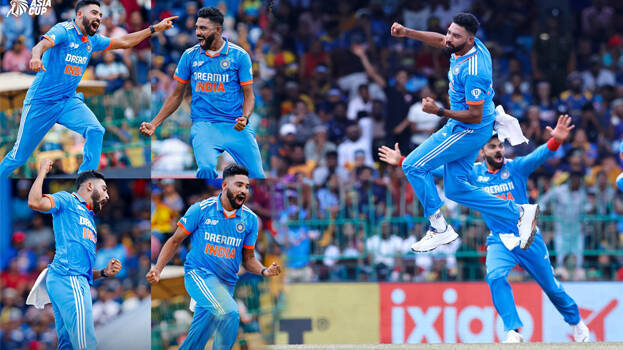 HYDERABAD: Indian pacer Mohammed Siraj gets back his title as world number one after his fierce performance that destroyed Sri Lanka in the Asia Cup cricket final. Siraj topped the ODI bowling rankings with 694 points. Siraj became the first by improving eight positions. Australia's pacer Josh Hazlewood is second and New Zealand's left-arm pace bowler Trent Boult is third. Both dropped one spot from their previous rankings. Hazlewood has 678 points while Boult has 677.
Left-arm spinner Kuldeep Yadav from India is also in the top ten. Kuldeep has 638 points. Kuldeep has dropped three places and is now in the ninth position. Jasprit Bumrah is only in the 27th position with 555 points.
In the Asia Cup final, Siraj took six wickets conceding only 21 runs in seven overs. In this, the second-best record performance in the Asia Cup where he took four wickets in an over was also noted. It is interesting that Siraj, who was chosen as the man of the match, paid this amount to the ground staff.