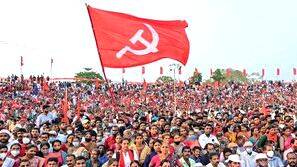 THIRUVANANTHAPURAM: Chief Minister Pinarayi Vijayan and his ministers are embarking on an extensive interaction with the people in preparation for the upcoming Lok Sabha elections. The Cabinet has unanimously decided to tour all 140 assembly constituencies spanning from November 18 to December 24.
The Chief Minister's office, in a press release stated that the purpose of this tour is to gain a deeper understanding of the community's sentiments regarding the progress achieved by the government in the construction of the New Kerala. The tour will include district-level meetings with eminent personalities and mass gatherings in the constituencies. On each day of the tour, four to five constituencies will be visited commencing with Manjeswaram on November 18. The leadership of MLAs will guide each constituency. Organizing committees will be formed at the mandal level during this month. To ensure the success of the program, mass gatherings will be arranged with the participation of representatives from various segments of society including cooperatives, workers, farmers, agricultural laborers, women and students. Additionally, art programs will be organized.
The list of special invitees for the constituency meetings comprises freedom fighters, distinguished people from diverse fields, women, youth, elected student representatives, college union office-bearers, talented individuals from Scheduled Castes and Scheduled Tribes, artists, celebrities, award winners, Theyyam artists, leaders of community organizations, senior citizen representatives, organizational delegates, representatives of cultural and religious organizations and others. The Chief Secretary has been entrusted with the responsibility of ensuring the program's success while the Minister of Parliamentary Affairs has been appointed as the State Coordinator. District ministers will be responsible for organizing the program in their respective districts, and in districts without ministers, ministers in charge will oversee the arrangements. District Collectors will assume administrative responsibility for their districts.
Convenor EP Jayarajan has clarified that the Left Front has no plans to reorganize the cabinet at this time. He emphasized that this matter has not been discussed within the party or among other political groups. He revealed that Kovoor Kunjumon has written a letter on this subject, prompting a broader discussion. EP Jayarajan emphasized that there is nothing wrong with asking questions and decisions regarding governance positions will be made in due course. This approach is supported unanimously within the LDF.
EP Jayarajan also announced that the LDF will actively participate in the constituency-based meetings planned by the government to promote its development programs. Additionally, he highlighted the grand celebration of the Keraleeyam program scheduled to take place from November 1 (Keralapiravi) to November 7. He noted that achieving the vision of New Kerala will take time but the government's implemented schemes are progressing rapidly. Through these constituency meetings, every region's unique needs will be addressed comprehensively.