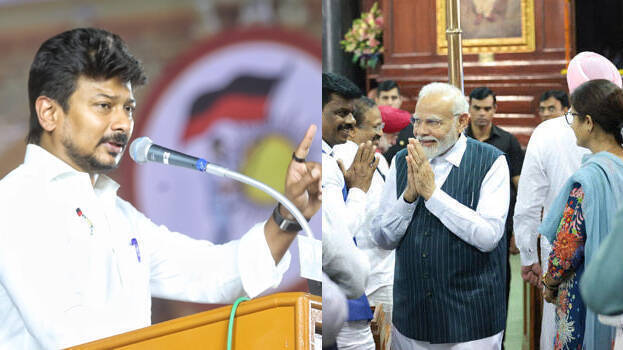 CHENNAI: Tamil Nadu Minister and DMK leader Udhayanidhi Stalin lashed out at the central government for not inviting President Draupadi Murmu to the important function of entering the new Parliament building. Udhayanidhi alleged that the President was not invited for the function as she is a widow and belongs to the tribal community. This is what we call Sanatana Dharma, he added.
'President was not invited for the function marking the historic transition of Parliament from the old to the new building. However, some Bollywood actresses visited the Parliament. Why was our President not invited. There's a reason for it. Our President is a widow and she belongs to a tribal community. We call this as Sanatana Dharma,' said Stalin.
He said this while talking at the youth wing meet held in Madurai. His statement on Sanatana Dharma had stoked a controversy. Soon he came forward lashing at the center. Congress MP Rahul Gandhi had also protested for not inviting the President. He said that he wanted to meet President Murmu at the function.
'The new building is great. Peacocks are beautifully visualized on the ground and chairs. However, wanted to meet the President of our country in this function. The President of India is a woman. She represents the tribal community. Their presence is the most important when moving from one house to another,' said Rahul Gandhi.

Meantime, the construction of the building which started on December 10 in 2020 was dedicated to the nation by Prime Minister Narendra Modi on May 28, 2023. The Parliament building is part of the Central Vista complex. The expense is Rs 13,450 crore. Bimal Patel is the architect. The present Parliament Building was inaugurated on January 18 in 1927 by the then Viceroy of British India, Lord Irwin. The architects were Edwin Lutyens and Herbert Baker. The old Parliament House is likely to be retained as a museum.