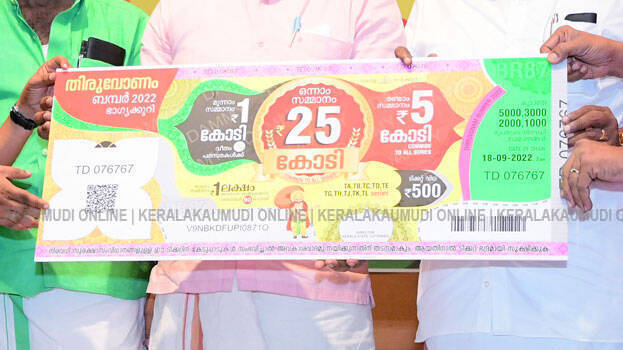 KOZHIKODE: Natives of Tamil Nadu won this year's Onam bumper prize of Rs 25 crore. The first prize was won by four people from Tirupur, Tamil Nadu. Pandyaraj, Natarajan, Kuppuswamy and Ramaswamy got lucky on tickets they bought from Walayar. The four people together delivered the lottery to the state lottery office this afternoon.
This ticket was sold through Guruswami's shop in Palakkad Walayar which was taken from Bava Agency in Kozhikode's Palayam. An agent named Sheeja sold the ticket.
The first prize was awarded to ticket TE 230662. The agent also said that that the first prize was for the ticket likely sold in the last ten days. One of the second prizes is for a ticket sold from Pazhavangadi, Thiruvananthapuram.
75 lakh tickets were sold this time. The total prize this year is Rs 125 crore 54 lakh. The second prize is one crore each for twenty people. Last year it was five crore per person. The third prize is 50 lakhs each for 20 numbers. Last time, 1 crore was given to 10 people. 5 lakhs each to 10 people and 5th prize of 2 lakhs each to 10 people. Also, there are many prizes between Rs.5,00 and 5,000.