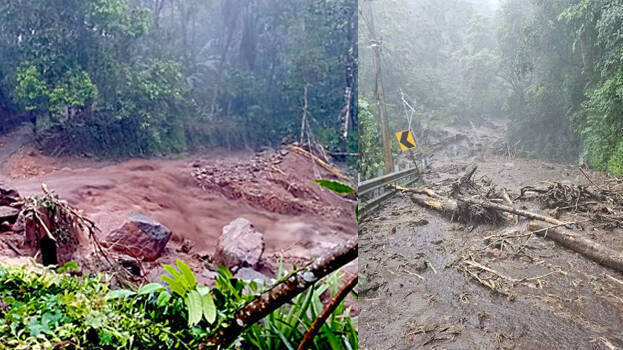 KOTTAYAM: The rains have been pouring incessantly across the hilly terrains of Kerala for the past one and a half days. In the latest news, the Erattupetta-Vagamon road was judged inaccessible after a major landslide congested the traffic for hours. The landslide occurred exactly at Injiparai and according to details, the Vellani area is left isolated due to the mudslide. The roads here are said to be splashed in boulders and tree branches.
Traffic was blocked due to a landslide in Mangalagiri on Vagamon Road. Crop damage was also reported. In the Adukkam, Theekoy, and Ottayeeti areas, the rain has never stopped after its inception. This never-ending downpour has also sparked concern for authorities as the water level in the Meenachil River is showing a steady rise.
Meanwhile, the Indian Meteorological Department has announced a yellow alert in seven districts of the state. A yellow alert has been announced in Thiruvananthapuram, Kollam, Pathanamthitta, Alappuzha, Kottayam, Ernakulam, and Idukki districts. Malappuram and Kannur districts are on yellow alert tomorrow. Moderate rain is likely in Kerala for the next five days.