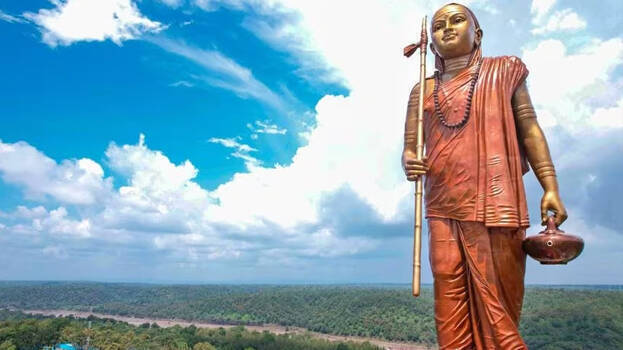 BHOPAL: A 108-feet tall statue of Adi Shankaracharya was unveiled on the banks of Narmada River at Omkareshwar in Madhya Pradesh. It was unveiled by Madhya Pradesh Chief Minister Shivraj Singh Chouhan.
The statue of Adi Shankaracharya is based on Mandhata mountain in Omkareshwar. Khandwa Collector Anoop Kumar Singh said that the awe-inspiring multi-metal sculpture stood on a 54-foot-high pedestal and had a height of 108 feet.
The statue is made of bronze containing 88 percent copper, four percent zinc and eight percent tin. Apart from the statue, a museum and a Vedanta institute named Advaita Lok have been established. The cost of the project is 2000 crores.