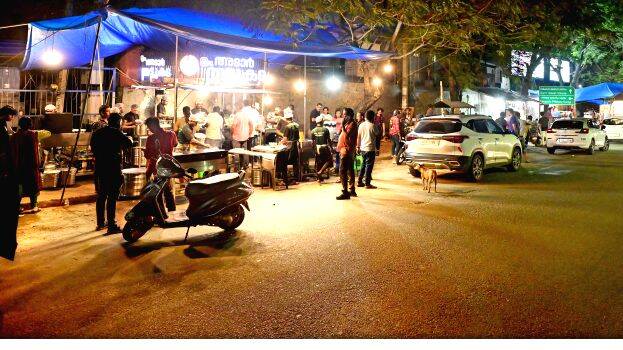 THIRUVANANTHAPURAM: As darkness looms in the capital city, there is no better option than to visit the Vazhuthacaud-Vellayambalam stretch to unleash your epicurean quest. From country-made duck roast to Arabian Shawarma, the place is replete with new offerings. A year ago, this location was deserted during the night hours with fewer people opting to travel this stretch. However, with a timely facelift, this location has been turned into a glitzy spot, sure to attract the residents of the capital city, especially the youth.
After the grand makeover of Manaveeyam Veedhi, youths have been stationed in the place while there is a serious rise in visitors too including couples for photoshoots. The roadside begins at 7 p.m. More than 10 Thattukadas and food trucks are operating under the license of the corporation within one kilometer from Vazhuthacaud Junction to Vellayambalam Manaveeyam Veedhi.
Pani Puri, a North Indian dish, is priced at Rs 60 per plate. 'Adar Thattukada' which opened in front of Forest Headquarters last November is the most happening place for night shindigs. Fish head curry and duck curry are the main dishes. Local kappa served in banana leaves, 'Kalakiya Omelet' served with special gravy on the omelet, Thattu dosa, puttu, and chicken curry are the favorites of not just normal citizens but also movie stars and politicians.
Most people eat while sitting in the car. After the meal, many people try drinking Planet Soda before calling it a day. More Thattukadas have opened taking examples from the initial ones that reaped huge profits within a year of starting. Most of the shops target customers in students of the IAS academy and nearby apartments. The shops sprawled in business during the IFFK season when even movie stars graced the spot to taste the local culinary legends. The cooks are natives of Assam. There are also people who are doing part-time jobs along with studying. Only some places have online food delivery. It is very busy on public holidays and Sundays.