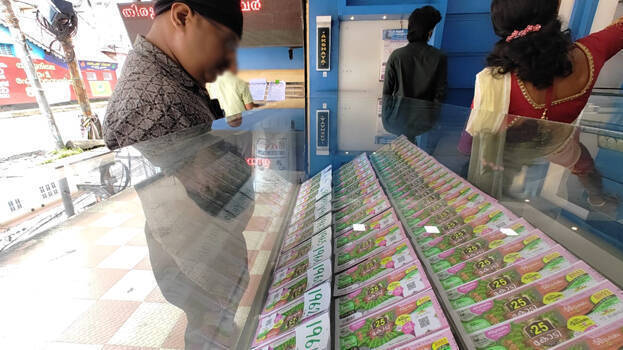 PALAKKAD: Four natives of Tamil Nadu are the lucky winners of the 25 crore jackpot of Onam bumper lottery of Kerala. The four are Pandyaraj (59) and Kuppuswamy (45) of Perumanellor in Tirupur, Swaminathan (40) and Ramaswamy (42) from Annur in Coimbatore. The prize is for one of the three tickets they bought after captivated on that board '25 Crore Bumper' from the shop in Walayar. The ticket was handed over to the directorate of lotteries in Thiruvananthapuram.
The four purchased the ticket jointly from Guruswami's Bava Lottery Agency while they were returning after meeting their friend of Chandrapuram in Walayar who is undergoing treatment after an accident. Pandyaraj said he knew about the prize after his friends called and informed him yesterday. The ticket was with Kuppuswamy.
Kuppuswamy is running a tea shop in his hometown. Pandyaraj is working here. Swaminathan and Ramaswamy are real estate brokers. The other three handed over the ticket to the lottery office. Pandyaraj could not accompany them as he had to attend a private function in Chennai along with his family. The declaration of taking the ticket jointly and the statement of dividing the amount equally and identity documents were handed over along with the ticket.
The authorities informed them to hand over some more documents including a joint bank account. After submitting all these, the money will be transferred to their account. They will get Rs 12.8826 crores after deducting taxes and commission. Meantime, they have requested the lottery authorities not to reveal more of their details.
They paid Rs 1500 for three tickets. They had Rs 1800 after each person paid Rs 450. They returned to their hometown after having food with the balance amount of Rs 300.
'The families of the four strive hard to meet both ends. They said will plan future things after getting the prize money. They thanked God and the Kerala Government.'