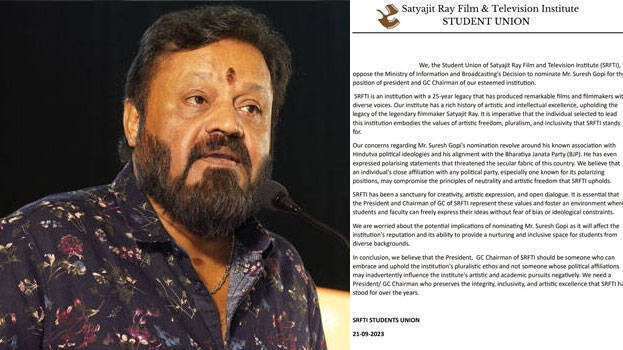 NEW DELHI: Several reports are claiming that actor and former Rajya Sabha MP Suresh Gopi would take up the position of the president of the Satyajit Ray Film and Television Institute (SRFTI). Meanwhile, the Students Union of the institute has come out opposing the move to appoint Suresh Gopi as the president of the institute. In a release issued by the students' union, they said they were against the decision of the Ministry of Information and Broadcasting to nominate Suresh Gopi as the president of the institution.
'SRFTI is an institution with a 25-year legacy that has produced remarkable films and filmmakers with diverse voices. Our institute has a rich history of artistic and intellectual excellence, upholding the legacy of the legendary filmmaker Satyajit Ray. It is imperative that the individual selected to lead this institution embodies the values of artistic freedom, pluralism, and inclusivity that SRFTI stands for.
Our concerns regarding Mr Suresh Gopi's nomination revolve around his known association with Hindutva political ideologies and his alignment with the Bharatiya Janata Party (BJP). He has even expressed polarising statements that threatened the secular fabric of this country. We believe that an individual's close affiliation with any political party, especially one known for its polarising positions, may compromise the principles of neutrality and artistic freedom that SRFTI upholds.
We are worried about the potential implications of nominating Mr Suresh Gopi as it will affect the institution's reputation and its ability to provide a nurturing and inclusive space for students from diverse backgrounds.
We believe that the President, GC Chairman of SRFTI should be someone who can embrace and uphold the institution's pluralistic ethos and not someone whose political affiliations may inadvertently influence the institute's artistic and academic pursuits negatively,' the release read.