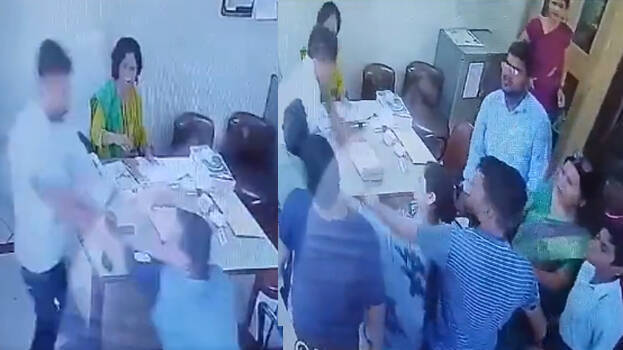 KANPUR: In a bizarre incident, a man stormed into the office room of a school with his friends and thrashed a teacher for punishing his son. The incident took place in Kanpur in Uttar Pradesh. The CCTV footage of the incident has surfaced online.
The child's father came to the school when the teacher was talking to the school principal in the office room. Upon storming into the office, the father attacked the teacher. Although the teacher tried to defend himself, the father's friends surrounded him and attacked him. Other teachers and security guards managed to rescue the teacher with great effort. A student was also present in the office room when the incident took place.
According to sources, the man got provoked after the teacher made his son do more than 50 sit-ups in class as punishment. It was learned that the boy had swelling in his legs after doing the sit-ups. The parent said that he attacked the teacher as he couldn't bear to see the condition of his son. Neither the school authorities nor the teacher have yet commented on the incident.