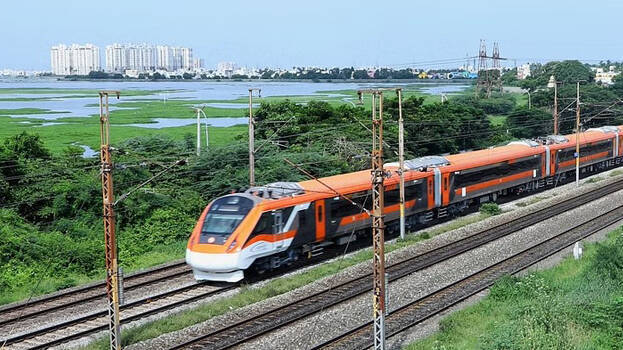 THIRUVANANTHAPURAM: The visuals of the new Vande Bharat Express, which is about to start service in Kerala, have come out. It was Union Railway Minister Ashwini Vaishnaw who shared the video footage of the train through the X platform. The video shows the new orange-coloured Vande Bharat running on the track.
Prime Minister Narendra Modi will flag off the train scheduled for service on the Kasaragod-Thiruvananthapuram route tomorrow at 12 o'clock. However, ticketed service will start only from September 26th. There will be no service on the Thiruvananthapuram-Kasargod route on Monday and the Kasargod-Thiruvananthapuram route on Tuesday.
Apart from the Vande Bharat Express on the Kasargod-Thiruvananthapuram route, the Prime Minister will also flag off eight other Vande Bharat trains tomorrow. The other new Vande Bharat trains will operate on Udaipur-Jaipur, Tirunelveli-Madurai-Chennai, Hyderabad-Bengaluru, Vijayawada-Chennai, Patna-Howrah, Rourkela-Bhubaneswar-Puri, Ranchi-Howrah and Jamnagar-Ahmedabad routes.