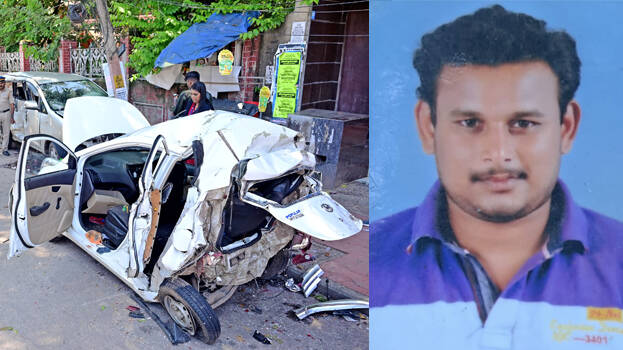 THIRUVANANTHAPURAM: One person died and two others were injured when a speeding Innova car rammed behind a parked car in front of a hotel. Rajeesh Mon (32), son of Ramachandran, RS Bhavan, Malayinkeesh Guest House Road, is the one who died.
The accident took place in front of Aruna Hotel opposite Palayam Saphalyam Complex at 1 am yesterday. Cantonment police arrested Ijaz (23), a native of Kollam Nilamel, who was driving the car. Ijaz and the serial actress who was with him were not injured.
Rajeesh and his friend Anish (33) were in the back seat at the time of the accident. Their friend Abhilash was standing outside. Rajeesh, who was stuck behind the car, was taken out and immediately taken to Medical College Hospital, but could not be saved.
Ameya Prasad (32), a resident of Palayam, was also injured. Anish and Ameya sought treatment at the medical college. Rajesh's body was cremated after post-mortem. Rajeesh was a Medical representative. Mother: Shobhana Kumari, Wife: Shankari. Children: Dhruvan (5) and Dharan (4 months). Brother: Raneesh (Police)
Police said that the car driven by Ijaz was overspeeding. The car that was coming from the Statue side, spun around twice while trying to stop and hit the back of the parked car. The car stopped only after hitting a nearby tree, a post and the wall of the Ayyankali Hall. This is a contract vehicle. The actress left in another vehicle.