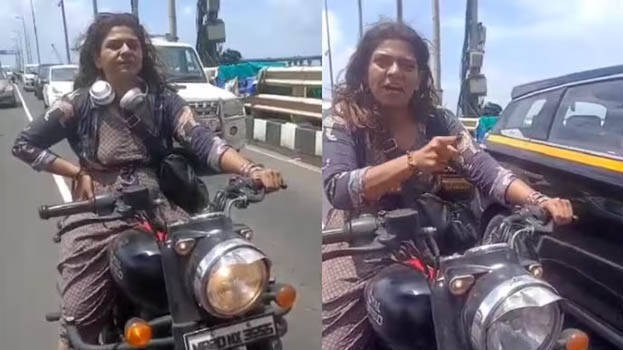 MUMBAI: The woman misbehaved by pushing away and threatening the police officers who questioned her for speeding. 26-year-old architect Nupur Mukesh Patel was speeding on her Royal Enfield bike on the Bandra-Worli Sea Link in Mumbai.
When the incident came to the attention of the police, the officers stopped her. The police constable asked the woman to get off the bike. In response, the woman said, 'If Narendra Modi asks me to get off my bike, I will. Go and call Modi.'
As the police officers attempted to remove her from the bike, she threatened to harm them if they touched the bike and exclaimed, 'How dare you touch the bike!' The young woman argued with the police that this road belongs to her father who is a taxpayer and asserted that no one can stop her. The video of the incident quickly went viral.
A case has been registered against the woman for reckless driving, causing obstruction and obstructing the work of a government official. The police have informed that the woman has been issued a notice to appear before the investigating officer for questioning.