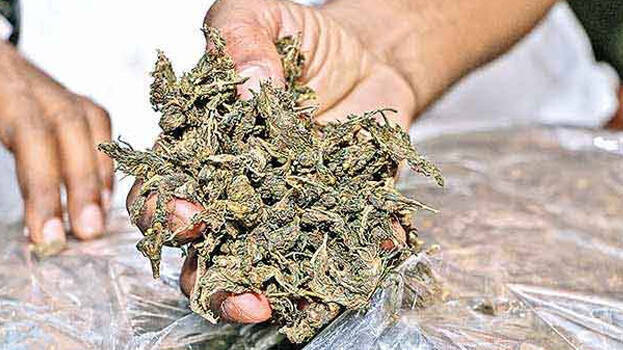 KOTTAYAM: A youth, who was selling ganja under the guise of a dog training center, escaped after unleashing the hunting dogs on the police. Robin George (35), who runs a dog training center named Delta 9 near Kochalummood in Kumaranallur, was the one who managed to evade the police. The police seized 17.8 kg of ganja in two bags from his bedroom.
Robin had been running the training center by renting a house and a nearby plot. The police officers arrived at the training center last night while posing as customers. After chatting with them for a while, Robin realized the danger. He then went into the training center and unleashed the American Bully dogs. Following this, he escaped by jumping over the wall. Another person, who was suspected to be a customer, also managed to escape from the spot. Upon seeing the dogs, the police officers quickly rushed out and closed the gate. The officers finally inspected the training center after the dog squad arrived at the spot and caged the dogs.

The police said that Robin had trained the dogs to attack if they saw anyone wearing a khaki. There were 13 dogs, including aggressive American Bully dogs and Rottweilers. A year and a half ago, Robin rented the house and plot from a native of Chengannur. Robin lived with his pregnant wife. The police conducted the inspection when Robin's wife was not at home.