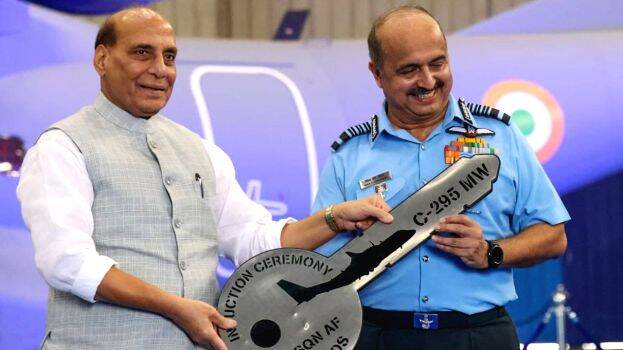 NEW DELHI: The C-295 passenger fighter aircraft with state-of-the-art facilities capable of delivering personnel, weapons and rescue operations to the battlefield has been made a part of the Air Force. The aircraft was inducted into the force at a ceremony at the Hindon Air Base in Haryana in the presence of Defense Minister Rajnath Singh. Chief of the Air Force, Air Chief Marshal VR Chaudhary, also attended the function at Hindon. Special pujas were also held.
The plane arrived in September from Seville, Spain. This is the first of 56 aircraft to be delivered under the contract with Airbus Defense and Space.
Rajnath also inaugurated the drone exhibition at the Hindon Air Base. 75 types of drones for various purposes were on display.
C-295 to add strength
The fighter jet will strengthen the Air Force in places like the China border and the Andaman and Nicobar Islands.
The fighter aircraft can also be used on temporary airstrips due to its short take-off and landing features.
All 56 aircraft will be fitted with electronic warfare systems manufactured by Bharat Electronics.
Can carry 71 soldiers or 49 paratroopers.
It can carry 24 stretchers and seven medical attendants.