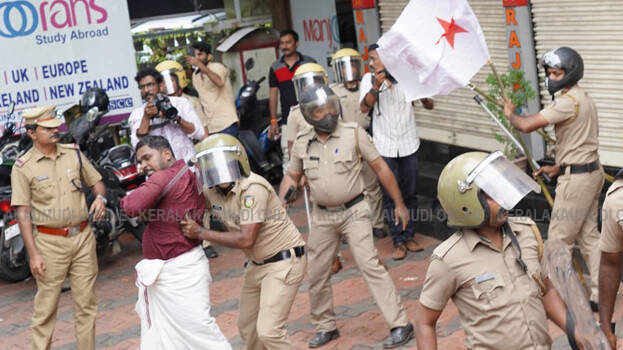 KOTTAYAM: The family of a merchant, who committed suicide the other day, organised a protest in front of the Karnataka bank branch in Kottayam by carrying the dead body. After protesting for several hours, the family stopped the protest after the police assured them that a case would be registered on the complaint lodged by the family. Aymanam native K C Binu (50) was found dead in his house on Monday afternoon. Following this, the family lodged a complaint alleging that the employees of the bank used to constantly come to Binu's shop and threaten him in the name of the arrears.
According to Binu's wife, the bank officials used to constantly insult Binu and did not give him time to repay the loan. Binu's daughter also alleged that the bank manager had threatened her father.
Binu's daughter said that Binu took the loan from the Kottayam branch of the Karnataka Bank. "My father had taken loans from the bank several times, He used to repay the money in due time. However, he was unable to pay the money for the last two months. With this, he had dues in the bank. Following this, the bank manager started threatening him. He and other employees of the bank came to the shop and insulted my father. They even took away items from the shop," Binu's daughter said.