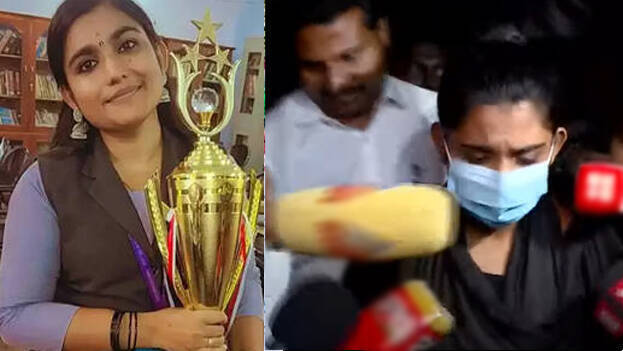 ALAPPUZHA: Greeshma, the main accused in the heinous Parassala Sharon murder was released from Mavelikara jail on Tuesday night. Upon coming out of the jail, Greeshma was swarmed by media persons with queries, but she denied any response. Greeshma's mother and uncle, accused in the same case, were earlier granted bail. Greeshma was arrested on October 31 2022 and has completed 111 days in jail before getting bail for the first time.
Police recently submitted the charge sheet in the notorious murder case that shocked Kerala. The hearing in the case was also completed and minding this, the accused was granted bail with conditions not to interfere in the case and not to influence the witnesses.
The court clarified that the bail cannot be denied on the grounds that public sentiment is against the accused. The suspect has cooperated with the investigation and has no criminal background. The court said there was no sufficient reason to stymie the bail of the accused as the charge sheet had been prepared. According to the court, even the prosecution doesn't fear the possibility that the accused would go into hiding if provided bail.
On October 14, 2022, Greeshma poisoned her boyfriend Sharon at his home in Palukal, Tamil Nadu. She tricked Sharon into believing that it was just a medicinal herb and made him gulp down the poisoned drink. Sharon endured two days of horrible vomiting and was admitted to the hospital, but couldn't be saved. Sharon died on October 25th 2022.
In his last statement given to his family members, Sharon said he trusted Greeshma and believed that his illness was caused due to some other reason.