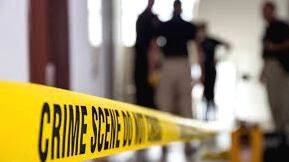 LUCKNOW: On suspicion of having a forbidden relationship with their son, a man murdered his second wife in Uttar Pradesh. The woman was found lying decapitated near an isolated field in Bandra, Uttar Pradesh on Saturday. According to police, it was Madhya Pradesh Chhatarpur native Rakuamar Ahirwar who beheaded his wife Mayadevi in one horrendous crime.
According to Superintendent of Police Ankul Agarwal, the hair and nails were forcibly plucked out from the body. The victim was found decapitated with no clothes. He termed the killing as gore and brutal. The police found that Maya Devi's family members were connected to the incident. During interrogation, husband Ramkumar, his sons Suraj Prakash and Brijesh along with their cousin Udaybhajan confessed to the crime.
According to Ramkumar, his second wife Mayadevi was having an affair with one of his sons. So the gang tricked her into traveling with them to an isolated place in Chamraha village and strangled her to death here.
The head was chopped off with an ax and the fingers were cut off so that the body would not be recognized. The police recovered the weapon and the vehicle used by the accused in the crime.
Meanwhile, the SP announced an immediate Rs 25,000 reward for all police officers involved in the investigation for their efficient work that untangled the mysterious death in a few days' time.