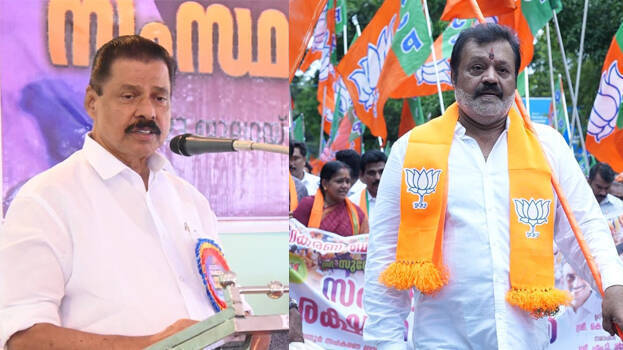 THRISSUR: BJP leader and former MP Suresh Gopi has rejected the allegation that the investigation being conducted by the Enforcement Directorate in connection with the Karuvannur bank fraud is to help him. Suresh Gopi said that he did not raise this issue after the ED investigation started and such allegations are made by those who are affected by the cataract of communism. He was talking to media in Thrissur.
Last September, I hinted that I would intervene in the matter. The padayatra was done after one year. What should I say to people who say this is drama as part of the Lok Sabha elections? I am a former SFI worker. Vijayan and Nayanar know that. But, Govinda would not know'- Suresh Gopi said in a press conference.
CPM State Secretary MV Govindan said that the ED's visit to Karuvannur is part of the strategy to win in Thrissur. Suresh Gopi is contesting from Thrissur in the next Lok Sabha elections. MV Govindan had alleged that the ED resorted to forceful interrogation to create a favourable situation for Suresh Gopi in Thrissur.
'I am not supporting the Karuvannur Bank fraud. There is no justifying wrongdoing. The mistakes must be corrected and necessary steps should be taken for that. Media works according to ED's agenda'. He added that CPM will expose the move to make the Karuvannur Cooperative Bank loot.
At the same time, a march was held last day under the leadership of Suresh Gopi, demanding the return of the entire amount to all those who were defrauded in the Karuvannur Bank. The walk was from Karuvannur Bank to Thrissur District Cooperative Bank headquarters. BJP state president K Surendran inaugurated the rally.