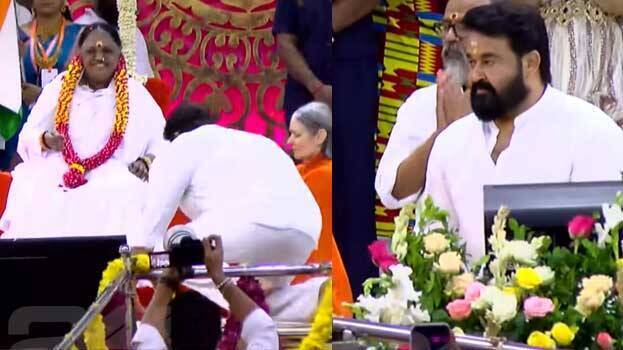 KOLLAM: Actor Mohanlal took part in the 70th birthday celebration of Mata Amritanandamayi at the Amrita Vishwavidya Peetham campus in Amritapuri. Mohanlal welcomed Mata Amritanandamayi who reached the venue at 9 am. Mohanlal wished her a happy birthday, garlanded her and received blessings. The actor was there at the venue for a long time before returning.
As part of the ceremonies, Ganapathihomam, Lalita Sahasranama Archana and Satsangam were held in the morning. The Satsangam was conducted by Swami Amritswarupanandapuri, vice chairman of the mutt. In the morning there was a music program by music director Rahul Raj and his team. Governor Arif Mohammad Khan, Union Minister Mahendranath Pandey and many other dignitaries were part of the birthday celebrations.
Amritanandamayi spoke for about an hour as part of the celebrations. She planted sandalwood in soil collected from 70 countries. A cultural meeting was held at 11 am. People from 191 countries participated in the event. There was facility to seat more than 25,000 people at a time. Community marriage, clothing distribution and certificate distribution were held as part of the ceremony. The police team had a meeting under the leadership of DIG R Nishanthini and City Police Commissioner Merin Joseph on Sunday to assess the security arrangements.