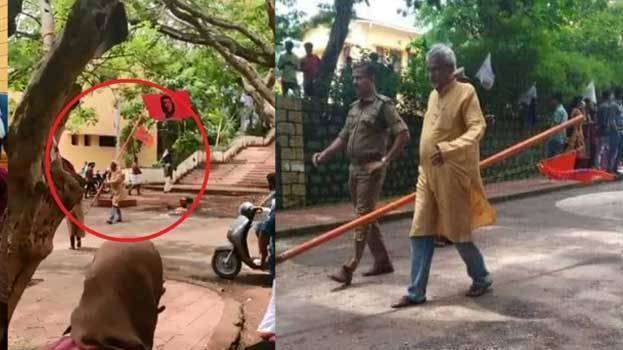 THALASSERY: The video of Brennen College principal removing the flag mast of AVBP from the college had gone viral on Social Media.
Principal Falgunan has come out with explanation on what had happened that day.

"The flag mast was thrown out of the college to avoid clash and there prevailed a tension between the SFI and ABVP. This was done to prevent the situation from worsening to law and order problem.

On the college campus, it is the SFI that is enjoying the majority. It is certainly a challenge to the activities of other students' organisations.
ABVP students had approached me, seeking permission to erect their flag mast near the one that belonged to the SFI.

Anyhow, I gave them permission in order to avoid further issues, but only with the proviso that the flag pole be removed within half an hour. They even agreed to that but changed their mind after they erected the pole, resulting in tense situation again. It was at this point, I took the drastic step," the principal explained.
Falgunan said though the police had arrived, he had decided to keep them out of the campus. "That is why I removed the flag mast and handed over to the police. But I never thought that the video will become so viral…," he said.

The principal said that he wanted to preserve the study atmosphere in the college and had decided to call peace meeting of students' organisations.