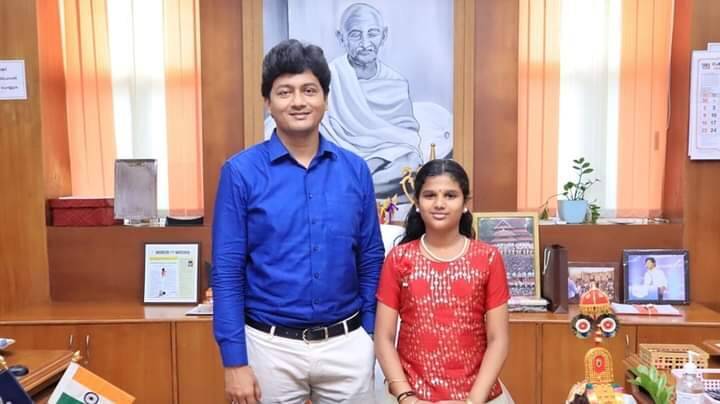 THRISSUR: "It is terrible times for Prema. She doesn't have any money to treat her cancer disease. Moreover, we don't have any money to help her", Devika turned desolate whenever her father Rajan mentioned the painful story of their neighbour Prema.
Devika, a 7th standard student recently won a bicycle worth Rs 6500 from a supermarket lucky draw but decided to give the whole amount to her neighbour Prema. And now, the same 7th standard student has amassed Rs 3 lakh within a span of six months, just to help Prema move ahead with her treatment.
" A little girl with a big heart. I am happy that I got to meet her. She is Devika, a student from LFGHS Chelakkara" Thrissur Collector V R Krishna Teja posted this on Facebook the other day. It was after this post that Devika's noble deed turned news.
Devika has to walk two kilometres to catch a bus to school. Still, she gave up the much-desired bicycle, for her neighbour. The family runs on the meager income of her father Rajan, who runs a panshop.
It was exactly six months ago that Devika won the lucky draw from the supermarket. However, Devika asked for money in place of a bicycle and the officials abided by her request. Later, the school authorities also gave her Rs 3500 to make the total sum to Rs 10,000. The full money was handed over to Prema during a function conducted at school.
To collect more money, Devika started a YouTube channel titled 'Devu's World'. 12 cycles were provided to Devika from several organisations and with the help of school authorities, she sold every one of these to students. Even though she craved a cycle, Devika couldn't take a chance this time as she thought it would affect the mission. With financial help and bicycle selling, the total money reached Rs 3 lakh. Devika left a sigh of relief after doctors gave positive signs about continuing treatment for Prema. Prema's husband is a labourer and has been struggling to pool money for treatment.