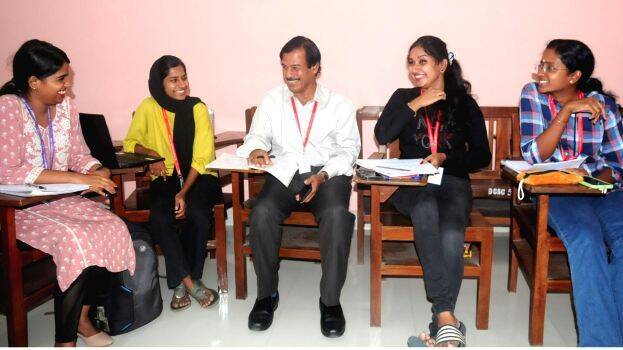 KOCHI: After giving up a salary of Rs 2 lakhs and the post of principal, Rajagopalan Nair is now celebrating his days as a student at the age of 70. He is now a classmate of 33 new-gen students who are younger than children.
The 70-year-old is a Computer Science M.Tech student at Cochin University of Science and Technology. He is very much active in his classes by telling jokes, laughing and writing assignments. Rajagopalan Nair already has eight master's degrees, including two MBAs, one M.Phil, one PhD, five PG diplomas and several certificate courses. He joined M.Tech after all this.
Rajagopalan, who was the vice-principal of Alpha College of Engineering in Chennai, joined M.Tech after giving up the post of principal. He did this out of his desire to get a PG from CUSAT. He had worked in the IT sector for 20 years (1986-2006). He had also quit as vice president of a large software company for studies.
Owner of two firms
He owns the Chennai Institute for Research in Interdisciplinary Studies (IRIS) and Midland Systems and Automation Technologies. IRIS has several branches and over 35 employees. As Rajagopalan is busy with his studies, his wife Meenakshi Nair is currently looking after them.
Rajagopalan is a native of Deshamangalam in Thrissur. His permanent residence is in Vadapalani, Chennai. Currently, he is staying in Swaraj Hostel in CUSAT. He goes for morning walks and does yoga every day. He has no physical problems.
Knows 6 languages, wrote 4 books
Rajagopalan studied MBA and ME Systems Engineering from Anna University. He became a teacher there and in SRM and Kamaraj Universities. He knows six languages. He authored four books on the integration of mathematical ideas from Sanskrit texts with computers. These books were published by his daughter Samyuktha.