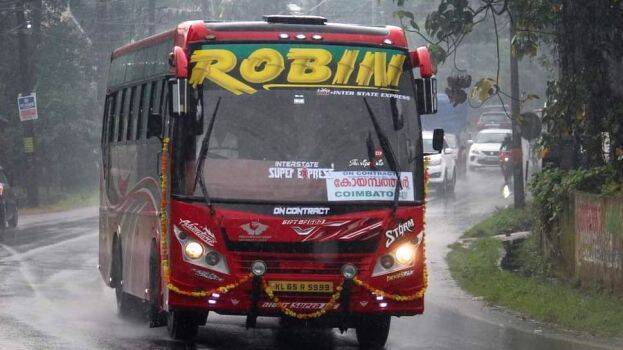 PATHANAMTHITTA: Girish, the owner of the private bus named 'Robin', said that his bus will start its service from Pathanamthitta to Coimbatore tomorrow. Girish said that the bus will leave Pathanamthitta for Coimbatore at five o'clock tomorrow morning. He also said that he has obtained protection from the High Court to operate the bus. 

The Motor Vehicle Department had seized the bus twice citing violation of the law. Meanwhile, the MVD is standing firm in its position that a bus with a tourist permit will not be allowed to operate as a stage carriage by picking up people from each stop. On October 16, the bus was travelling from Pathanamthitta to Coimbatore when the MVD officials stopped it in Ranni for inspection. After carrying out the inspections, the officials took legal action and took the bus into custody. Following this, Girish approached the court and fought a long legal battle to get his bus released from the custody of the MVD. 

The first trip will start from Pathanamthitta at 5 am tomorrow and end in Coimbatore at 12 noon. The return trip, which will start at 5 pm from Coimbatore, will reach Pathanamthitta by 12 am. Seat booking for Coimbatore service has started. During the trip from Pathanamthitta to Coimbatore, the bus will have stops in Ranni, Erumely, Kanjirappally, Erattupetta, Pala, Thodupuzha, Muvattupuzha, Perumbavoor, Angamaly, Thrissur and Palakkad. In the return service, the bus will have a stop only in Palakkad. 

At the same time, KSRTC approached the High Court with the demand that the vehicles with All India Tourist Permits should be restricted on the nationalized route.