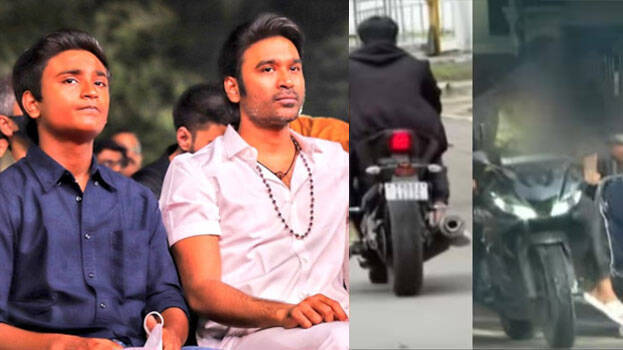 CHENNAI: People in Tamil Nadu worship film stars and it elicits no surprise. However, for Tamil Nadu police, these celebrities are not their cup of tea and they won't allow these same worshipped people to break traffic rules. Conforming to this, TN police fined actor Dhanush's son Yathra Raja for riding a bike without having a license in the first place. The 17-year-old Yathra was fined Rs 1000 for his illegal act. The police suo motu took the case after pictures of Yathra riding the bike surfaced on social media platforms.
Albeit ending their long-term marriage, both Dhanush and Aishwarya still live adjacent to each other near Poes Garden in Chennai. Dhanush recently completed a new building near Poes Garden for the convenience of both children to visit their mother. Yathra was caught riding an R15 bike from Poes Garden to Dhansuh's residence on Friday.
The video faced a lot of criticism from netizens for allowing a free run for underage youngsters to ride bikes. Yathra's lineage with Rajinikanth's family was also brought up by certain people which left no chance for police but to take action. It was one of the passers-by who took the video and shared it on social media.
In the video, Dhanush's assistant is seen knocking away the phone of the local who tried to record the video. Netizens raged against the Dhanush-Aishwarya couple for allowing their minor son to ride a bike flouting traffic rules.