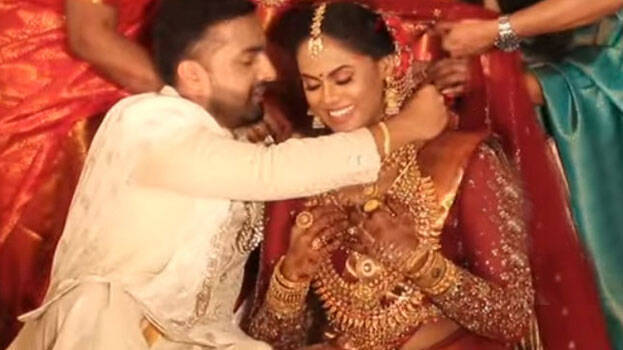 South Indian actress Karthika Nair got married in a grand ceremony. Karthika, daughter of renowned actress Radha and BJP National Council member S Rajasekharan Nair, married Rohit Menon.
The wedding took place at Kowdiar Uday Palace Convention Center in Thiruvananthapuram. The event was graced by the presence of Megastar Chiranjeevi and his family, along with a host of other celebrities. Actresses Menaka, Revathi, Suhasini, Radhika, Purnima Bhagyaraj, Nandini, Manju Pillai, Chippi, Jalaja and actor Jackie Shroff were among those attending the function.
Karthika made her debut in the Malayalam film 'Makaramanju' and gained attention for her role in 'Kammath and Kammath' opposite Dileep. She achieved stardom with her performance in the movie 'Ko', where she starred opposite actor Jeeva. Over time, Karthika has appeared in numerous films across Tamil, Telugu and Kannada.