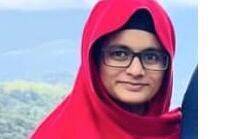 THIRUVANANTHAPURAM: A dentist undergoing treatment for dengue fever died on Monday. Mumtaz of Karkuzhiyil house in West Perumkulam in Malappuram is the deceased. She was 31.
Mumtaz was a first-year PG student in the Department of Oral Pathology at Thiruvananthapuram Dental College. She died while undergoing treatment at a private hospital in Thiruvananthapuram on Monday evening.
Three months pregnant Mumtaz was admitted to S.A.T hospital three weeks ago after suffering from dengue fever. She was later shifted to the ICU of another private hospital after her condition turned worse.
The body was taken to Malappuram after a public viewing at the dental college. Husband: Dr Safir (Professor NIT Kozhikode) Children: Khadija, Nuh.