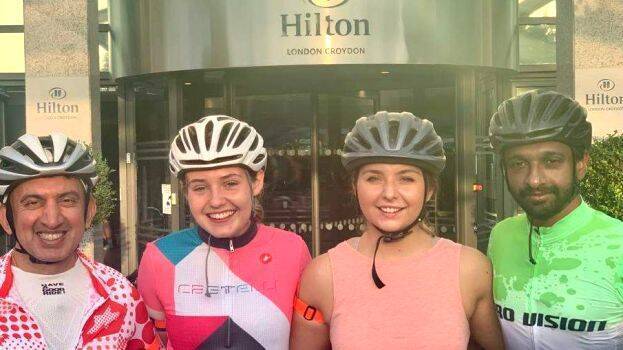 LONDON: Malayali neurologist Dr Jeeen Sreedharan has taken a marathon cycle ride from London to Switzerland to create public awareness on Motor Neuron disease, a group of neurodegenerative disorders that selectively affect motor neurons, the cells which control voluntary muscles of the body, resulting in the weakness of muscles and memory loss.

Dr Jemeen Sreedharan is a consultant neurologist at London King's College Hospital and a researcher in neurology. Currently, he is into the research to find out an effective medicine for the hitherto untreatable neurological disorders.

Three researchers of King's College and London University College joined അീ Jemeen in the cycle ride. The ride that began from London on July 24, ended in Geneva on August 1. Starting from London, he and his team reached France and from there cruised through Paris and Alps mountain ranges, covering 1,067 km in eight days.

Jemeen Sreedharan (42) is the son of the late Varkala Ayiroor resident Sreedharan and Baby Sreedharan. Born and brought up in London, he graduated in Medicine and specialised in neurology from Kings College. He also took PhD in the genetic specialty of neurotic disease.
He is currently a neuroscientist of King's College Morris Vogel Clinical NeuroScience Institute.