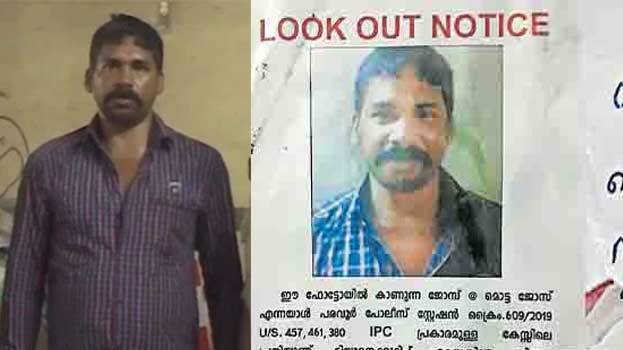 KOLLAM: The story of Motta Jose is interesting. He became a suspect for the police after the theft at 'Anitha Bhavan' in Dayabji Junction in Paravoor on July 25. He was finally caught by the locals on last Wednesday.
On July 16, Jose was released from Thiruvananthapuram Central Jail after imprisonment of three years for several big and small thefts. The house of Capt. Sreekumar, who retired as a top officer in the army, came to his notice. He confirmed that the house is unoccupied as lights, ACs or fans were not switched on. However, after breaking into the house, he couldn't find anything of use. He then decided to make it a safe house for his thefts. He started cooking and washing clothes. He then pasted a poster on the wall asking the owner to keep something valuable inside the house next time they leave. Jose then made a burglary at 'Anitha Bhavan' and stole gold and money.
Forensics was able to recover Jose's fingerprints from the spot and a lookout notice was issued. He then started moving out of his 'safe house' only when it is necessary. But some locals spotted him and thus his 'safe house' was exposed. House owner Sreekumar came to the place and confirmed that nothing was lost. Jose changed his stay to thickets and sit-outs of uninhabited houses.
He was finally caught by the locals and was tied him to a tree after which the police was informed.
Jose used to make and food inside houses after or before a theft. His favourite dish is omelette and hence he was named Motta Jose. Another trait is that he excretes and urinates inside houses he stays. He commits burglary all by himself and he cannot think of splitting up
Role of a saviour
While questioning, Jose also said about his experience while attempting burglary in 2005. He used to cut down ventilators of bathrooms and enter houses. During such an attempt, his body got crammed. The residents of the house who woke after hearing noises permitted Jose to take anything he wants. They helped Jose get down and enter the house. The family was about to commit suicide. Jose said that he will look after the kids and begged them not to commit suicide. The family turned back from suicide. This incident has been confirmed by the police.