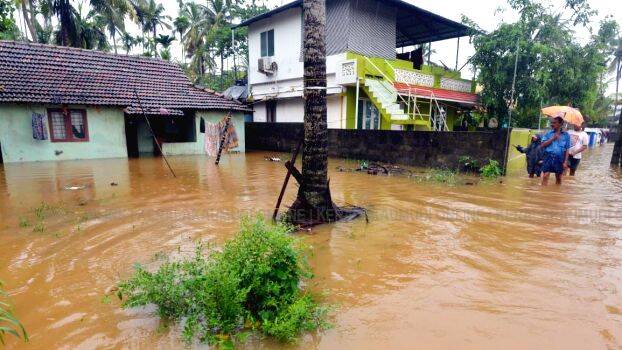 THIRUVANANTHAPURAM: Heavy rainfall has wreaked havoc across the state as IMD has clarified that the intensity of the rain will decrease from Saturday in southern parts of Kerala. There is no possibility of high-intensity rain at north Kerala. However, IMD chief Dr. M. Mahapathra has advised the public to follow the alerts issued by the govt in light of flood possibility. Red alert will be continued in seven districts in the state.
"It is usual to have high intense rains as depression formed in Odisha shore move to the west. Another depression is forming in the Bengal Sea on the 12th. This will result in showers at the west shores. Kerala will also receive showers due to this, but with lesser intensity. In the current situation, there is no possibility of floods. Last year at this time the state received an additional 25 percent rainfall and heavy rains followed. This time the rainfall was 14 percent less, so there is no possibility of another flood", he said.
Red alert was sounded in seven districts-Ernakulam, Idukki, Malappuram, Kozhikode, Wayanad, Palakkad and Kannur. Orange alert was issued in Thrissur, Alappuzha, Kasaragod, Kottayam, and Pathanamthitta. Rainfall will be of lesser intensity in Thiruvananthapuram and Kollam.
Meanwhile, a high alert was issued in northern districts of the state. As per unofficial reports, rain fury has claimed the lives of 43 people across the state.