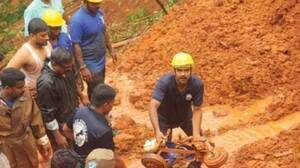 NILAMBUR: The locals in Kavalappara, where flash floods have created a disaster, said the tragedy was man-made. The use of Hitachi excavators to unearth hilltops for planting rubber have resulted in this, the natives say.
The locals have earlier protested against the use of excavators, but the collector here was ignorant. No actions were taken even after complaining to the collector and district administration, the locals said.
Meanwhile, a flash flood in Kavalappara during rescue operations have stalled it. Rescue activists were shifted to a safe zone. The natives fled the place. There were about 150 rescue activists here. The earth has caved in over 40 feet at several places.