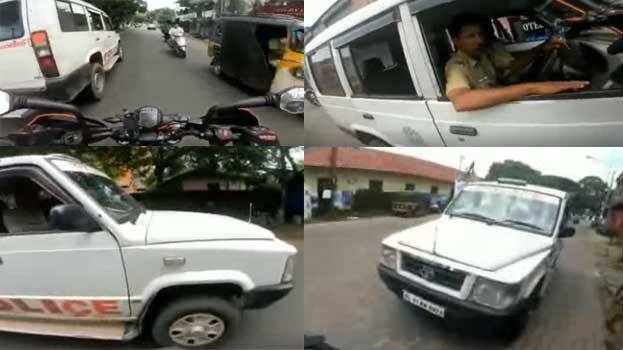 ALAPPUZHA: The Supreme Court had recently ruled that all passengers, including the driver, should wear seat belts. As a first step, the police and motor vehicle department decided to go ahead with awareness programmes for those not wearing seat belts and helmets. Officials have announced that they will take stringent measures once the awareness is complete. But, what if the police officers who enforce law make mistakes. This kind of video is now going viral in the social media but there is a twist in the incident.
These are the footages of the action camera attached to the bike following the police vehicle. The biker following a police vehicle rides in front of the vehicle and asks police to put on a seat belt. But despite repeated requests by the biker, the policeman in the vehicle refused to wear the seat belt. When the biker asks if there is any problem, the police says what he wants if they don't wear a seat belt? Soon, the biker stops his vehicle, keeps it across their vehicle and walks towards them and asks what you would do to ordinary people like us if we don't wear seat belt. The policemen then tells the biker that this vehicle belongs to the vigilance and we usually don't do it. The biker later gets the details of the policemen and makes them wear their seat belts. The video shows footages of police wearing the seat belt. The police were in the vehicle having registration number K L 01 BR 9471. It is not clear who shot the video and whose vehicle it is. It has been confirmed that the video was shot in Alappuzha Town.
Meantime, when contacted Alappuzha police, they said they have not obtained any information on it. The office of Alappuzha district police chief said it has come to their notice but nobody has so far lodged any complaint. But the video has gained tremendous acceptance in social media. The video is being circulated on the title 'So much courage is seen only in my Charles Shobha Raj'.