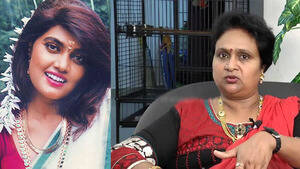 Late actress Silk Smitha is often considered as one of the hottest actresses in the history of Indian cinema. However, her life ended as a disaster as she committed suicide at the age of 35. Now, actress Anuradha has come up sharing her experience about Smitha.
Anuradha said that Smitha was her good friend right from the time they met. She says, "She approached me to do an item number in the film 'Penn Simham,' which she produced. We both became good friends while shooting the film." The actress also shared a shocking experience when she came to know about Smitha's death. "Just 4 days before her suicide, she came to my house and spoke for some time. Later, on the night before her death, she called and asked me whether I can go to her house as she wants to say something. But I was unable to go and told her that I will meet her the next day."
However, Anuradha got the shock of her life when she woke up hearing the news of Smitha's death. "If I had gone there that night and listened to what she had to say, she would not have committed suicide," she added. According to Anuradha, Silk Smitha was an extraordinary performer who was able to overcome her limited dancing capabilities with her body language and expressions.
Anuradha, who has acted in several films in the 80s and 90s, is currently busy doing television serials. She was last seen in the 2016 Tamil movie 'Gethu.'