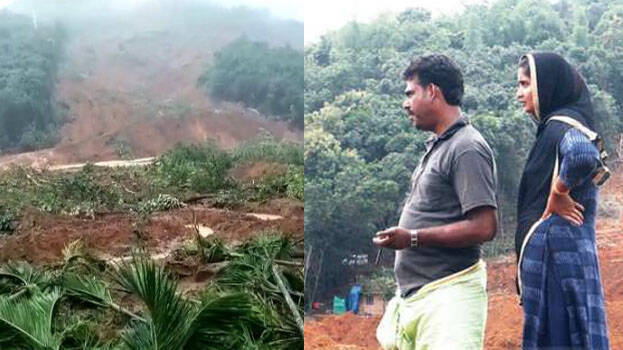 KAVALAPPARA: Though the second tragedy that struck Kerala was confined only to a few districts, in Kavalappara of Malappuram district alone more than 40 people died in landslides and floods.

At that fateful day, the demonic landslide had also buried the materialised dream of NRI Puthalavan Ashraf. It was just a few months ago that he had completed the construction his dream house with the hard-earned money from his 12 years' job abroad. The work was done in phased manner, whenever he was in his hometown on leave.

Last time, when he boarded the flight to his workplace in Saudi, he had some feeling of satisfaction for his achievement. It was his great wish to sleep comfortably in his own house next time when he came to Kavalappara.

But it was that dream and wish that got shattered within seconds in the recent natural calamity. The 40-cent land holding his new house and surrounding swathes of lands are now just a 6-feet sand mountain.

It was by sheer luck that his wife and three children escaped unhurt.

Asharaf's wife Jasna grabbed her children and ran out after hearing the cries of the people around that trees were uprooting. Within 30 minutes trees fell on the house and the entire plot including the house was covered with sand.
As soon as he heard about Kavalappara tragedy, he took the next flight to Kerala and reached his hometown. That land and house was his only asset.

Now this 40 year old man is looking up to the government and magnanimous persons for help. He is planning to shift temporarily to a rented house. But soon, he will have to return to his workplace for earning money for family.